Terminus Group, the global smart services and AIoT solutions provider, has announced the launch of its TacOS 3.0 product portfolio, in a bid to better promote sustainable development in society.

Terminus Group TacOS 3.0 will directly support urban digitalization and implementation of urban scenarios with green and low-carbon development at its core. As a city-wide, digital operating platform, TacOS is a platform for enabling urban infrastructure digitalization, IoT hardware and spatial digitalization. When all these elements are combined with smart energy, this creates the foundation for enormous industrial marketing opportunities.
In addition, the use of such technology by Terminus Group will also promote sustainable development in future cities, which is a strategy that is underpinned by the company's unique AIoT capabilities.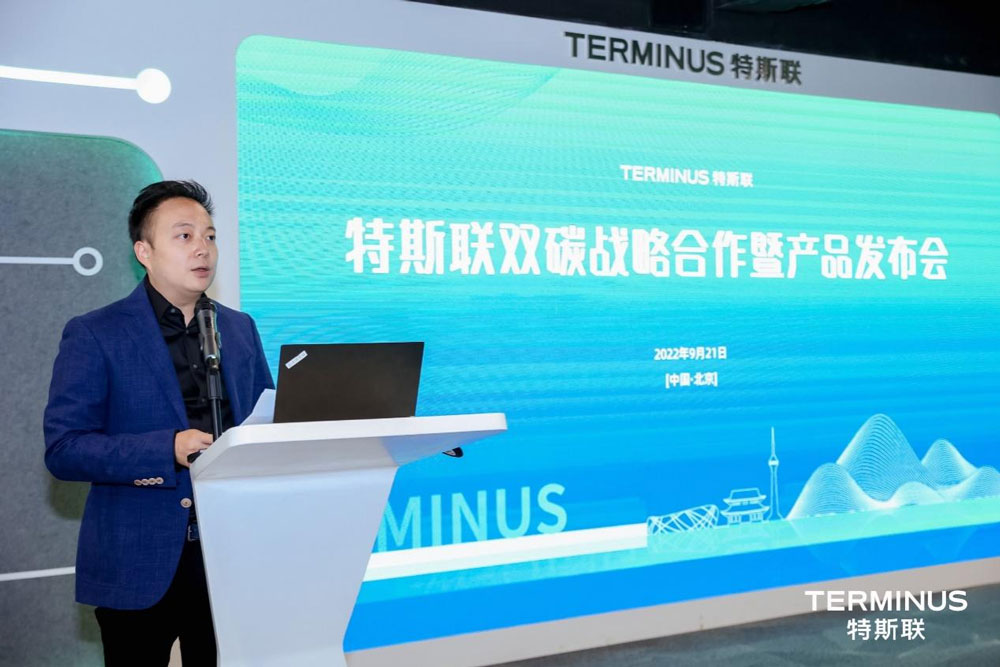 (Victor AI, Founder and CEO of Terminus Group, presenting at TacOS 3.0 launch conference)
Stating a company commitment to improving the future lifestyle of human beings, Victor AI, the Founder and CEO of Terminus Group, said, "Our approach is to think about what the world will look like in 10 years to 20 years, and what we can do during this period to deliver on that vision."
"If we have an idea what will happen in 20 years from now, we can become a driver for change and improving future lifestyles with the use of more green, sustainable, digitalized urbanization, and more. Therefore, to accelerate sustainable development via smart technologies is not what others ask us to do, it is what we should do," Victor added.
Within the TacOS 3.0 upgrade, the implementation of green and low-carbon sustainable development elements are enhanced and can be divided into three aspects, according to Dr. Hua Xiansheng, Chief Technology Officer of Terminus Group.
"The first is the support for different urban living scenarios. Although we are looking at macro low-carbon smart city scenarios, these are actually subdivided into various components, such as the supply area and the consumption of energy, both of which can be supported by the foundation of Terminus Group's TacOS3.0," says Dr. Hua.
"Whether in a building, a park, a shopping mall, a photovoltaic field, or a charging station, we have a set of foundations or portfolios and solutions that can be easily expanded and supported for smart, green, and sustainable development, " he continued.
According to Dr. Hua, the second element is the ability of AI and digitalization to support the optimization of energy. For instance, the collection of temperature, humidity, and lighting information from each point in a building - through sensors and controllers. According to individual and environment situations, TacOS 3.0 can optimize energy consumption while continuing to provide a comfortable environment – neither too hot nor too cold. Therefore, TacOS 3.0, enabled by the Internet of Things (IoT) and AI technologies, is a foundational tool to support future cities' energy optimization. Additional assessments of carbon emissions in a wider range of cities can also be calculated and supported by algorithms and, organically, TacOS 3.0 can be expanded and optimized through the existing ability to support energy optimization process.
The third element is the "digital twinning technologies" and their analytic capabilities, provided by TacOS 3.0, that will promote sustainable management across many areas. For example, integrating elements in the park into a digital twinning world, twin buildings, and twin electric fields. Based on these factors, multiple layers of information can be analyzed to identify problems and, subsequently, how they can be improved through either automatic and semi-automatic optimization.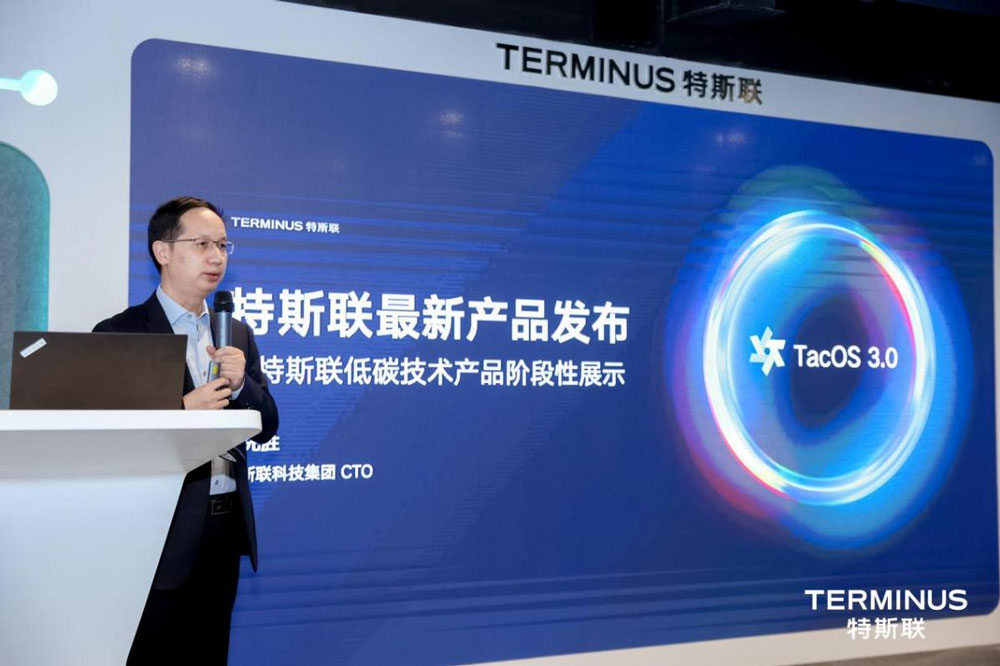 (Terminus Group CTO Dr. Hua Xiansheng presenting TacOS 3.0)
"The promotion of green and low-carbon development is a systematic project, which requires the cooperation of both the upstream and downstream sectors, in the industrial chain," Victor AI, Founder and CEO of Terminus Group added.
"Improvements in the upstream industrial chain include using new materials and technologies and to improve the mode of energy production, so as to replace fossil energy with green energy and improve efficiency and conversion rate. For the downstream industry chain, this includes promoting elements such as energy comprehensive management, new energy development, AI technology optimization and more.
"Like with any product, such as mobile phones or EV cars, the first step is always to pursue good quality, followed by a smart digitalization process, such as the constant upgrading of OTA. Here, it is necessary to improve efficiency and promote digitalization, green and sustainability, especially in cities, including industrial parks, residential and industrial power consumption," Victor AI added.
According to the company, TacOS 3.0 and AIoT technologies has already helped to collect and analyze information for city-wide digital and smart management. The next step is to superimpose on it and optimize it, using algorithms of different scenarios applications. This supports green and low-carbon development, and this will, in turn, accelerate carbon sink, carbon trading, and carbon derivatives, among other benefits.
"In the near future, with things like carbon trading, the bottom layer of the core will be the digital technologies capacity, which can make it better and more trusted. Terminus Group is aware of this new direction and is leaning into the trend. In addition, the company's team of PhD-level scientists, led by Dr. Hua , as well as the hundreds of staff that make up the R&D teams, will enable the technology to show its highest value of green and sustainable development," Victor concludes.
Since the launch of TacOS (1.0), the platform has been widely used in the urban AIoT sector, and is now operating in more than 120 cities, globally. According to Terminus Group, unlike comparable products being developed by other companies as an urban operating system, TacOS 3.0's modular and low threshold features can help developers reduce the difficulty of development, and also help solution providers more flexibly adapt to more urban scenarios. All this combines to provide the possibility of creating a more sustainable ecological approach to city-wide planning.