Terminus Group, the global smart services and AIoT solutions provider, has announced it will be upgrading Zhengzhou Kineer Smart Park's digital management development through its sustainable AIoT operation platform.
Terminus Group's proprietary AIoT platform will assist the Smart Park to collect, analyze, and visualize carbon-consuming information. It will also provide flexible and customizable carbon factor asset management systems that can be utilized to help with the park's environmental sustainability.
Having upgraded to the new platform, the operators of Zhengzhou Kineer Smart Park will be able to allocate carbon accounts accordingly, and when engaging in low-carbon practices, such as using environmentally friendly decoration materials, or water and electricity conservation, they will receive reciprocal virtual "carbon coins", issued by the Park. The virtual carbon coins can help homeowners exchange park services including professional courses, seminars, investment qualifications, along with a growing number of services.
Terminus Group's platform not only promotes the efficient implementation and application of carbon asset solutions, it also creates a project closed-loop revenue model that will help achieve a low-carbon sustainable operation into the integrated service, asset management and commercial operations in the Park.
As a "smart" business complex, the Zhengzhou Kineer Smart Park is located in the east square of the high speed national rail link, in Zhengzhou, and is characteristic of a future-oriented park that has committed to achieving green and digital development - from construction to operation - for the benefit of the owners, operators and end users.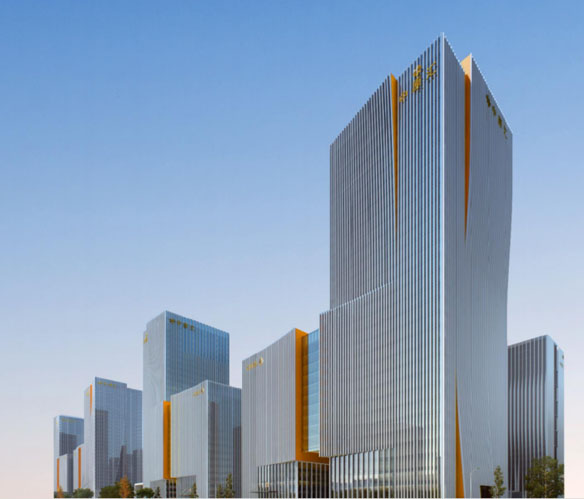 Zhengzhou Kineer Smart Park
It can be a challenge to combine sustainable energy consumption with homeowners/users behaviors in traditional operating models; however, homeowners who actively promote green energy consuming will see the benefits in the long-term. Smart solutions often involve investment in the early stages, and managing energy consumption relies on educating the end user as much as providing the technology to assist in more sustainable measures. Therefore, bridging the gap between energy consuming effectiveness and individual benefits remains a key consideration for future operations.
Based on the experience of implementing over 9,000 projects in AIoT scenarios in similar developments and smart parks, such as Zhengzhou Kineer Smart Park, Terminus Group's sustainable carbon management platform has proven to be able to help manage energy consumption by tracking environmental situations and homeowners/users carbon consumption behavior.
Unlike traditional carbon management platforms, one of the highlights of the solutions created by Terminus Group is the carbon factor asset. Abiding by national industry standards, the AIoT platform can also support specific industries connections so as to cover carbon emission attributes, across the facilities and managed environment.
In addition, the carbon algorithm module, embedded in the platform, enables algorithms for calculating energy saving and carbon reduction potential assessments, carbon peak/carbon neutrality process evaluations, and others. Together, these algorithms support the analysis of carbon assets and assist the owner/operators to generate carbon assessment reports - so as to further guide future energy consumption methods and implementation.
Based on Terminus Group's current AIoT capabilities, the platform can currently support over 30 energy-related protocols and manage over 200 energy devices for maximum efficiency. The diverse, digital information docking methods also enable the front-end carbon information's rapid collection and access. It also optimizes the procedures of traditional manual property forms and improves the efficiency of low-carbon operations and management, in the park.
"Green" or low-carbon development has become the benchmark, worldwide, for all new urban and industrial developments, and the low carbonization of the digital and physical architecture is a particularly crucial element in all contemporary design.
Currently, the wider industry is embracing and developing various solutions for sustainable architectures that support energy conservation and carbon reduction. In this context, promoting the relevant solutions and energy-efficient applications in contemporary construction scenarios has been a key commitment from all major industry players.
Terminus Group has teamed up with ecosystem partners to create a carbon asset service management system that is setting standards in green and digital operation models for commercial parks' smart and sustainable development so as to further strengthen the implementation of likeminded projects, both now and into the future.