The 2022 World Cup in Qatar was a memorable event for many people, with hundreds of millions of people from all around the world able to witness the historic event, held in the Middle East for the first time. In addition, another historic event – the first China-Arab Summit – was held in Saudi Arabia's capital, Riyadh, highlighting the enormous potential of both China and the Middle East working more closely together in business and cultural exchange.
In 2021, China's trade with the Kingdom of Saudi Arabia, Qatar, and the United Arab Emirates was $87.0B, $17.1B, and $72.3B, respectively. In fact, China continues to be the largest trading partner of many Gulf countries. As more Chinese companies are focusing on this region, it is expected that the trade between these countries will continue to grow.
As the official premier partner of Expo 2020 Dubai, Terminus Group was able to provide the event with various technological solutions and services, including 152 AIoT-powered robots and the now internationally iconic event mascot, Opti. It also developed business with other Middle Eastern companies as a direct consequence of its partnership with the mega event.
Moment 1
In 2019, a number of high-ranking officials from Qatar visited Terminus Group in China. These included: H.E. Ahmad Mohammed A Y Al-Sayed, Minister of State of Qatar and Chairman of the Qatar Free Zone Authority; H.E. Mohamed Al-Dehaimi, Qatar's Ambassador to China; Lin Minghui, CEO of the Qatar Free Zone Authority; and Mohammed Hussain AA Al Abdulla, CEO of the Doha Venture Capital Fund Company. During their visit, they were able to identify potential high-tech businesses in China that could be established in the country, and the visiting delegation's first stop was Terminus Group's office, in Shanghai.
During his meeting with H.E. Ahmad Al-Sayed, Founder & CEO of the Terminus Group, Victor Ai, discussed the various aspects of China's Belt and Road Initiative. He noted that there are many areas of potential growth for Chinese and Arab companies, in areas of trade, science and technology.
It was noted that the relationship between China and Qatar's science and technology industries has changed significantly over the years. From a simple investment and trade relationship to a deeper strategic cooperation agreement, the two countries' relationship has been extended due to the country's scientific and technological development.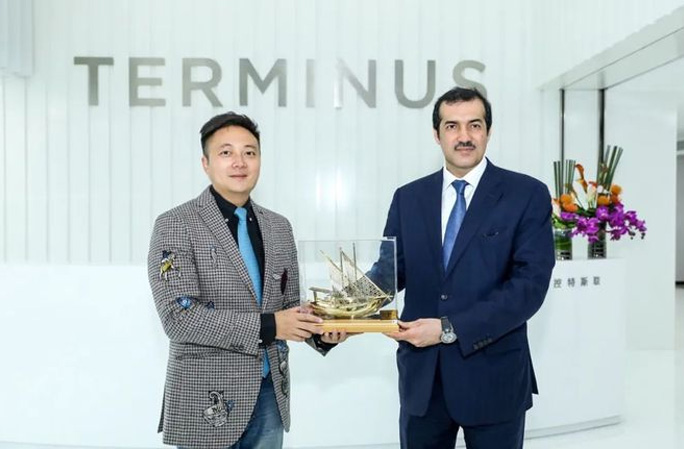 Victor Ai, Founder & CEO of Terminus Group, presented H.E. Ahmed Al-Sayed, Minister of State of Qatar, with a sailboat symbolizing everlasting friendship (2019)
Following this visit, the outbreak of COVID-19 quickly swept the world. As the pandemic unfolded, Victor and the company's management team were able to respond to the situation by establishing a special action team and launching a humanitarian campaign called "The Huolei Initiative". Through its charitable activities, the company was able to deploy its resources to help victims of the disaster.
During this time, Victor led an international team to send epidemic prevention materials to aid China's epidemic situation. When the Qatari Minister learned of this, he immediately contacted Victor and promised to "provide full support in this difficult period". Qatar Airways immediately promised to open a "green channel" for Chinese embassies and consulates abroad worldwide, and to carry approximately 600 tons of materials for China free of charge, including 2.5 million masks and 500,000 bottles of disinfectant hand sanitizer donated.
After learning that the company planned to purchase thousands of medical supplies from Qatar for domestic use, the Qatari Ambassador to China helped facilitate the transfer of these materials domestically. Therefore, a growing friendship between the two countries was developing during those few months. When the international situation worsened, the company reciprocated by deploying over 20 tons of emergency equipment and scientific materials to help Qatar.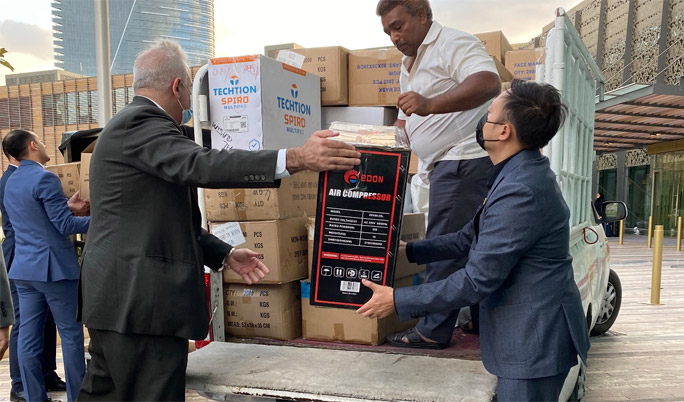 Victor Ai, Founder & CEO of Terminus Group, and his colleagues in UAE were shopping materials to help resist COVID-19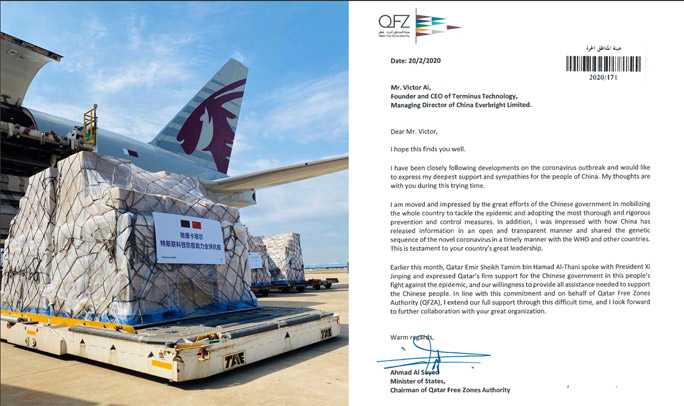 Terminus Group's supporting epidemic prevention materials to be carried to Qatar by Qatar Airway; H.E. Ahmad Mohammed A Y Al-Sayed, Minister of State of Qatar sent a thanks letter to Victor Ai, Founder and CEO of Terminus Group
While at that time, Victor and his team were in the United Arab Emirates, where they were able to purchase epidemic prevention materials. They were then invited to meet with H.E. Reem Al Hashimy, the UAE Minister of State for International Cooperation, once she learned about Victor's visit and arranged a special meeting between the two.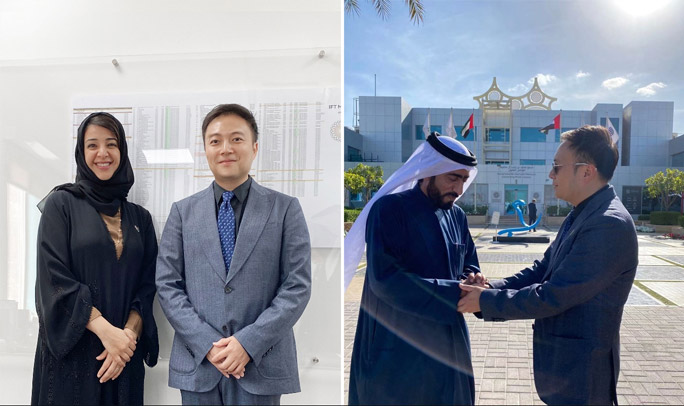 H.E. Reem Al Hashimy, the UAE Minister of State for International Cooperation, and Mohammed Al Hashmi, CTO of Expo 2020 Dubai, meet with Victor Ai, Founder & CEO of Terminus Group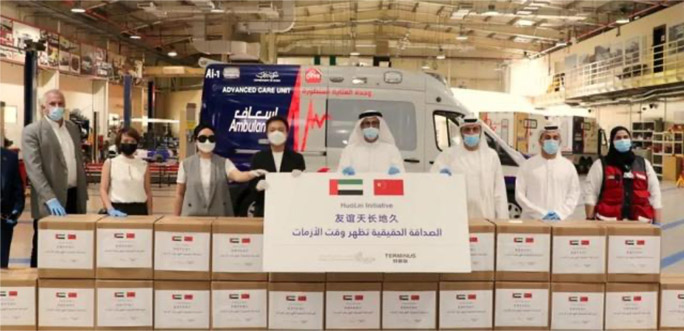 Terminus Group donated emergency medical supplies to the Dubai COVID-19 emergency center
Moment 2
On 2nd July 2020, Terminus Group was named as Expo 2020 Dubai's final official premier partner, beating world renowned technology firm Boston Dynamics to the honors. As a leader in the field of artificial intelligence and robotic systems, Terminus Group was able to provide the event's visitors with a deeper understanding of the potential of AI and AIoT-enabled technologies, including robotics. It was at that time, Mohammed Al Hashmi, CTO of Expo 2020 Dubai, stated that the partnership would allow for the foundational development of a center for technology innovation within the legacy project, Expo City Dubai.
The company's robots are designed to work in various environments, such as parks and tourist attractions and they performed flawlessly in performing various tasks at Expo 2020 Dubai, playing their part in and event that received nearly 30 million visits.
One of the event's mascots developed by Terminus Group especially for the event - "Opti" - provided visitors with the necessary guidance and assistance during the six-month long event. Besides this, the other four types of robots were also designed with various features, such as multi-touch screens and 5G connectivity. They were able to perform different tasks, such as greeting the visitors and performing other tasks depending on the situation.
Through its ability to analyze and manage the digital information collected and stored in real-time, the company is able to provide its customers with the necessary help to improve their operations and improve the quality of life for their citizens. This focus on developing real-world solutions that are designed to help solve the various problems that arise due to urbanization, mean it was a perfect showcase for Terminus Group to demonstrate its digital urbanization solutions, including smart parking and smart tourism services.
Except for the cooperation at Expo 2020 Dubai, Terminus Group also signed a long-term lease with Expo City Dubai, the legacy project and innovation hub developed out of Expo 2020. The partnership has, therefore, undoubtedly proven invaluable in Terminus Group's ambition to refine its own core products and AIoT systems, in the region, providing local communities and businesses with its smart solutions.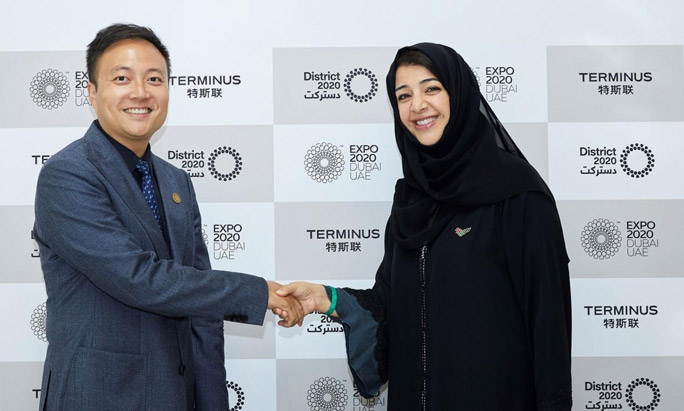 Victor Ai, Founder & CEO of Terminus Group, meets with H.E. Reem Al Hashimy, the UAE Minister of State for International Cooperation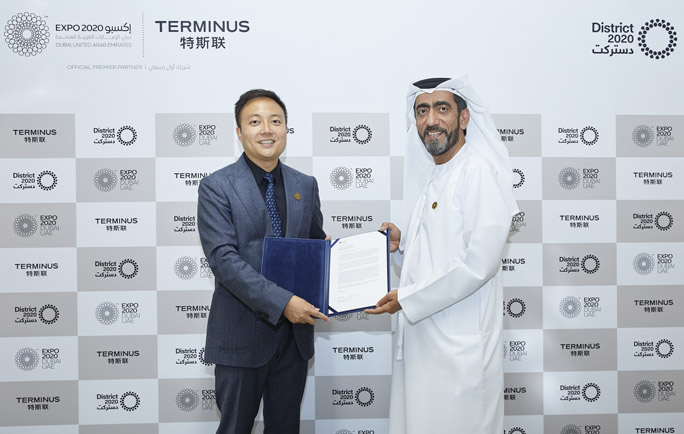 Victor Ai, Founder & CEO of Terminus Group, meets with Mohammed Al Hashmi, CTO of Expo 2020 Dubai

Moment 3
In April 2021, Terminus Group, a world-leading smart service provider of AIoT (AI+IoT) solutions and Injazat, the UAE's leader in digital transformation, announced signing a strategic partnership aimed at exploring the digital market in the Middle East region. The strategic partnership covers all urban digitalization and smart city services, such as AIoT platform-based services, edge computing, and robotic technology. The aim being to further facilitate the process of smart transformation of entire cities and industries.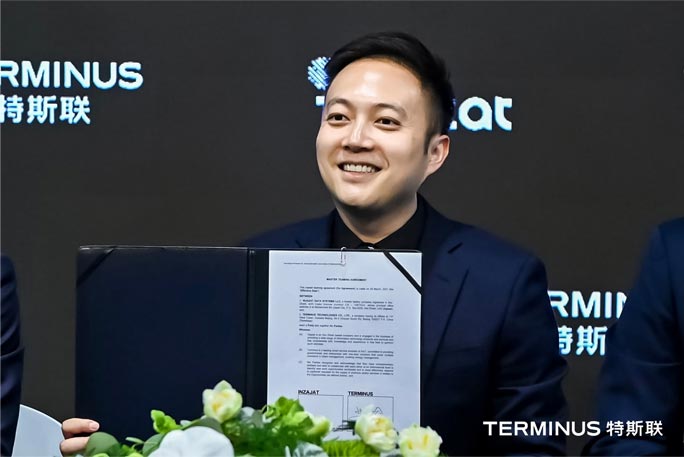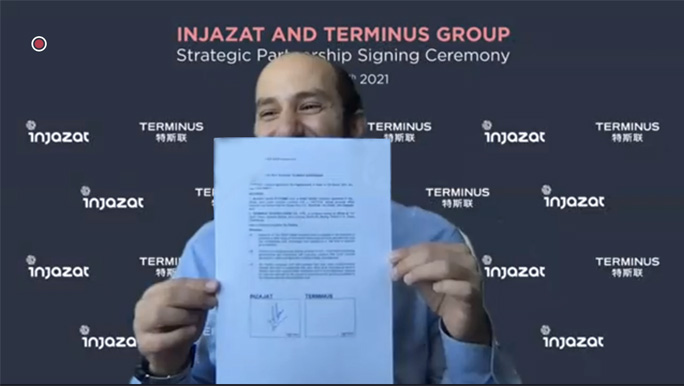 In September 2021, Terminus Group undertook the smart upgrading project of the "House of Wisdom" at Sharjah Library and Cultural Center (UAE). Subsequently, Terminus Group reached a strategic cooperation with Talabat Group, to jointly solve the "last mile" of food delivery, in the Middle East.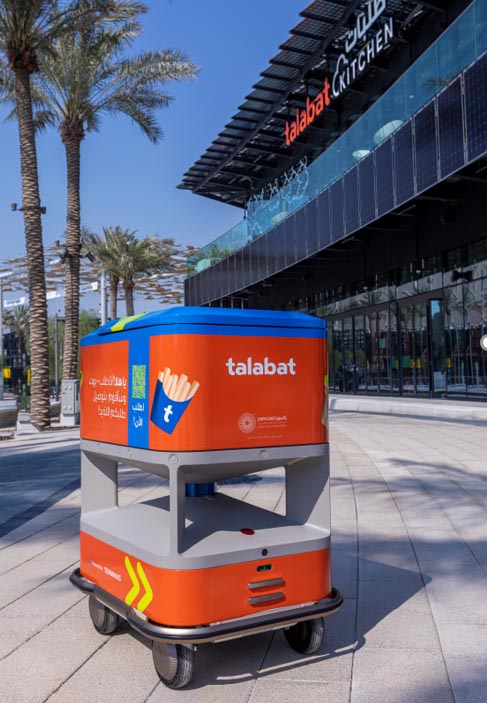 In December 2021, Terminus Group and the Louvre in Abu Dhabi jointly hosted the forum of "New Forces of Art". The Titan series service robots of Terminus Group have also worked with the Dubai Police to create a super police force.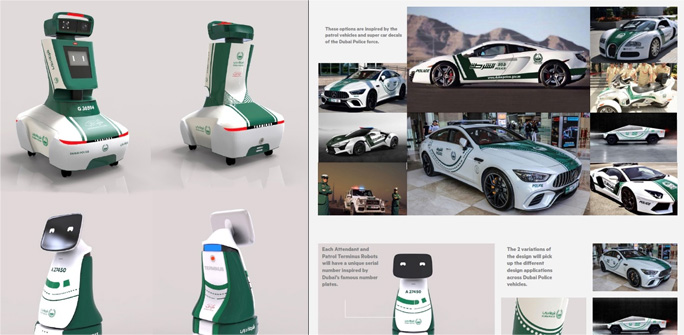 Before the end of 2021, Investcorp, the internationally renowned investment institution, announced the formal completion of its investment in Terminus Group. Behind it stood many well-known institutional investors and investors, including Mubadala, Saudi's PIF fund, the Kuwait Investment Authority (KIA), and other significant Middle East institutional investors – and royal family members.
Having established its first international office and MENA HQ within Expo City Dubai, the company's continued presence in the UAE will certainly allow it to establish a strong regional presence and provide new customers with the necessary tools and resources to improve their smart operations, and function as an important bridge "connecting the East and West."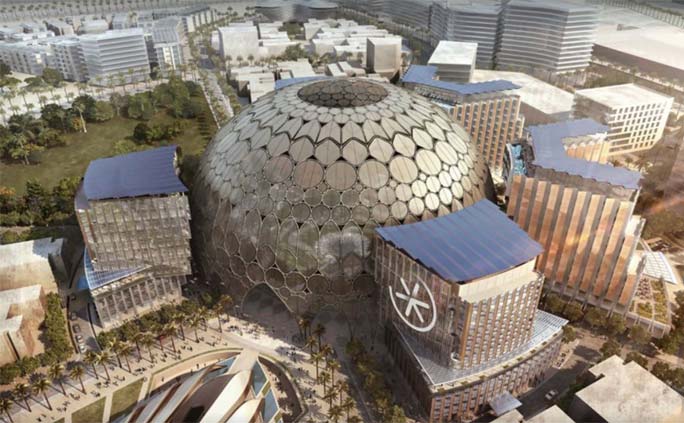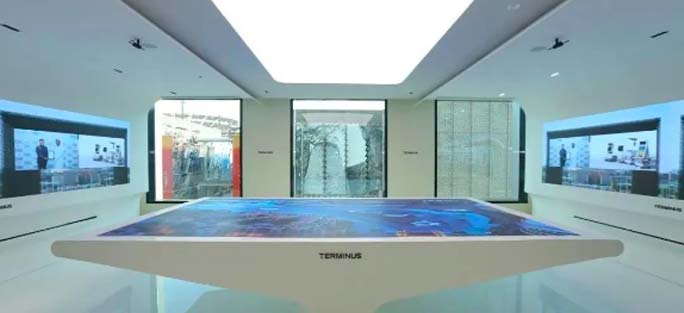 Terminus Group MENA office
The multiple cooperation with the Middle East region means the fulfillment of Terminus Group's commitment as a responsible technology company: Terminus Group looks forward to and believes that science and technology can help humankind release more possibilities in the future.
This is also the embodiment of the significance of the Silk Road, established more than 2,000 years ago. In addition, the spiritual core of the Belt and Road Initiative is to build a community of interests, a community of a shared future and communal responsibility, mutual political trust, economic integration and cultural inclusion.
Terminus Group is looking forward to following in the footsteps of predecessors and its continuing development of AIoT technology will undoubtedly help the development of the Belt and Road Initiative and build a smarter and greener world for the future.