As a global leader in the development of sustainable and smart solutions for the AIoT market, Terminus Group has announced it has achieved the highest ranking 'Level 5' for CMMI, as accredited by the Information Systems Audit and Control Association (ISACA).
A Capability Maturity Model Integration (CMMI) Level 5 rating indicates that a service provider offers customers consistently successful outcomes and, through the adoption of the CMMI model, organizations can improve their performance by measuring and improving business metrics that ultimately help improve efficiency and achieve their goals.
Commenting on the recent accreditation, Victor Ai, Founder and CEO of Terminus Group, said: "This certification is a vindication of Terminus Group's core commitment to deliver advanced levels in product development, process standardization, project management, and solution delivery. As a global leader in AIoT technology, we are proud to provide our customers with mature industry solutions and high-quality services that are independently recognized for the highest international standards."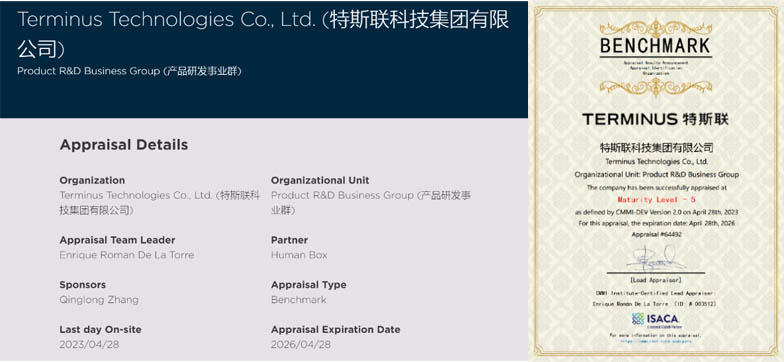 Terminus Group has been successfully appraised at CMMI Maturity Level - 5
CMMI certification has 19 evaluation categories, including cause analysis and resolution, decision analysis and resolution, risk and opportunity management, and process management. The accreditation process and evaluation was conducted by ISACA evaluators, in full co-operation with Terminus Group CTO, Dr. Hua Xiansheng, and his team.
"Level 5 CMMI accreditation is yet another accolade and achievement for which the company can be especially proud. Attaining top ranking is one thing, but to have done so by achieving perfect scores in the categories of Cause Analysis and Resolution (CAR) and Management Performance and Measurement (MPM), is particularly pleasing," Dr. Hua said.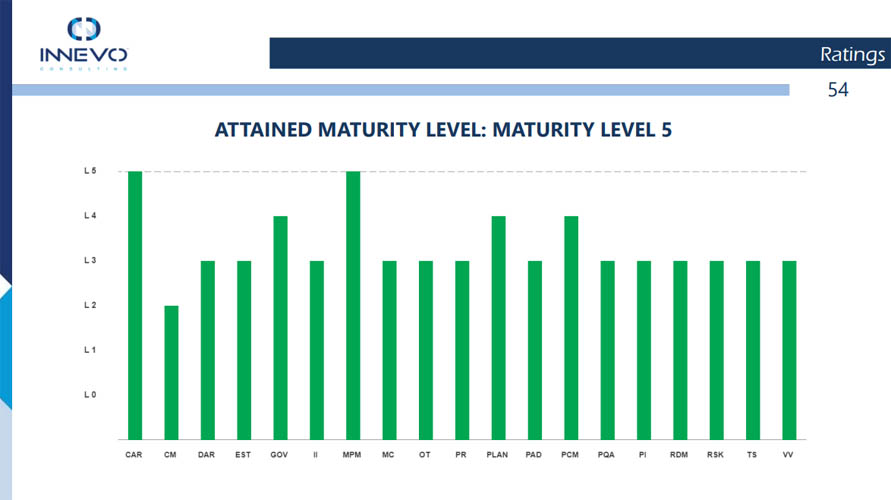 Since its founding, in 2015, Terminus Group has consistently provided its customers with access to advanced AIoT-based technologies and end-to-end services that are now enabling the digital and intelligent transformation of cities. This includes advanced software and hardware solutions for buildings, communities, parks, and multiple digitally enhanced urban scenarios. This is achieved through the company's five-tier, AIoT-based technical platforms, which are: CityIoT, CityOS (or AI CITY Operating System), CityAI, CityAPP, and CityStudio.
At the CityOS tier, the AI or smart city operating system is called TacOS 3.0, a proprietary platform developed out of Terminus Group's dedicated R&D department, which offers flexibility, scalability, and adaptability within the sustainable urban digitalization concept. TacOS connects different customized AIoT software applications in urban spaces and massive heterogeneous AIoT hardware devices, bringing unique value to urban operators, developers and end users.
The CityApp tier, based on the support of the standardized TacOS platform, delivers software application products with component-based standards, providing a flexible combination of market-oriented solutions for multi-industry applications. For scenarios with varying dimensions such as buildings, communities, parks and cities, Terminus Group has developed multiple software applications and solutions. These include applications for supporting low-carbon energy management, elderly care management in the community, business park investment management, and urban pipeline safety, among others. The stated aim being to provide the highest quality environments around a human-centric model.
Being recognized as a Level 5 CMMI provider, Terminus Group has added another 'feather in its cap' for demonstrating its commitment to continuously improving software development and project management levels, as well as providing customers with more mature industry solutions and higher quality services.
"Going forward, Terminus Group will further strengthen our core competitiveness of platform-based products and services, and continue to implement the sustainable and commercial value of products and technologies that enable a better quality of life for all AI or smart city residents," Dr. Hua added.
CMMI certification has long been recognized as a 'passport' for enterprises to expand in global markets, reflecting that their software development and project management have reached international standards. ISACA's commitment to empowering IT professionals to help advance digital trust so businesses can grow and thrive, is part of helping industry to achieve the latest digital trust assets, resources and training.