"Cities are undergoing a transformation from digitization and automation to intelligence"
With the 2022 edition of the UN's World Summit on the Information Society (WSIS) drawing to a close last week, academics and industry professionals attending two roundtable discussions on the goals of WSIS and the 17 sustainable development goals (SDGs), saw out the three-month-long event two key seminars, with Terminus Group Chief Scientist, Dr. Yang Yang, presenting the case for AIoT's integral role in the future of sustainability in smart cities and urban development.
Dr. Yang, joined by global experts from various fields connected to artificial intelligence and Internet of Things from, including academics, entrepreneurs, industry leaders and media representatives, to discuss how science and technology can advance the SDGs, create opportunities for scientific cooperation, encourage R&D and knowledge-share, develop research partnerships, and implement WSIS action items.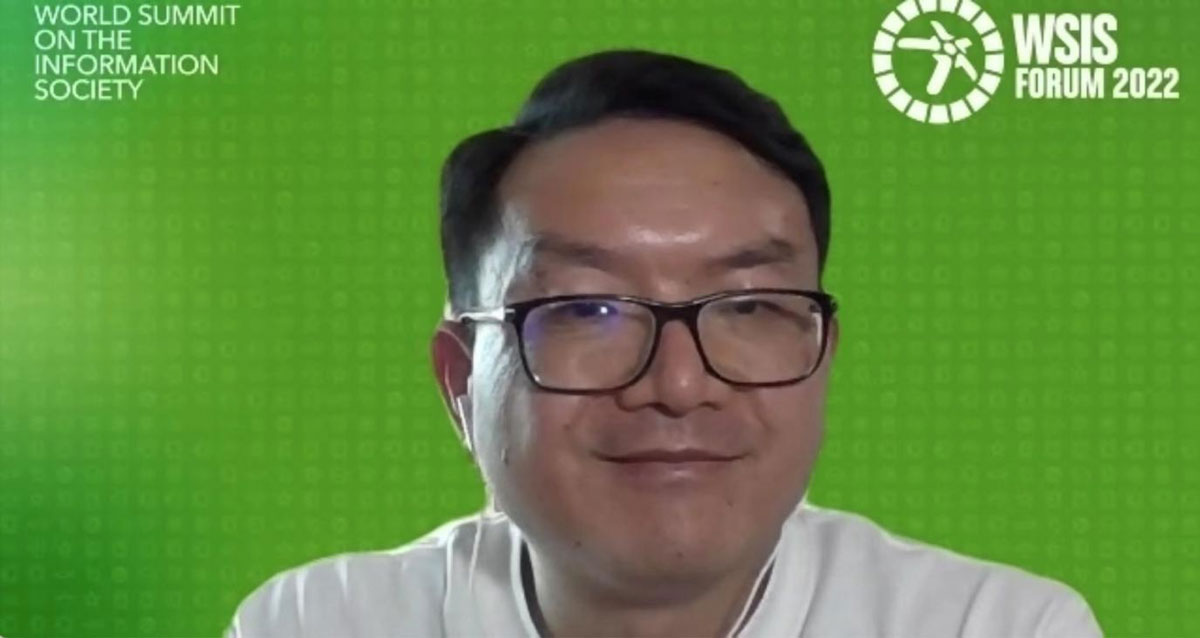 Terminus Group Chief Scientist Dr. Yang Yang attending WSIS Forum online
Noted for his record of scientific research in AIoT, Dr. Yang attended two of the last seminars to be held at WSIS – 'Academia Roundtable' and 'WSIS and Sustainable Development Academic Goals' seminars. In the second seminar, his presentation on the technological prospects around AIoT's role in the sustainable development of cities and communities echoed how Terminus Group's role in developing the benchmarks for such projects is reflected in the four AI CITY concepts already under development. In fact, Chongqing, in China's Western Region, is on course to be the world's first fully integrated 'AI CITY'.
"WSIS provides a platform for open scientific and technological exchange for the world's top academics and industry professionals to make it possible for discussions to take place that positively impact and promote sustainable development goals," said Dr. Yang.
During his presentation, Dr. Yang proposed that artificial Intelligence and Internet of Things (AIoT) technology can provide people-centric, customized, and diversified sustainable development services for smart cities and communities, as well as promoting the digitalization and intelligent transformation and sustainable development of cities.
"At present, cities are undergoing a transformation from digitization and automation to intelligence. traditional cities provide standardized services according to the location of users and application scenarios; and with the development of ICT technology, in the future, the ubiquitous ICT resources and applications in smart cities can break through the limitations of space and time, providing customized and diversified services for individuals Serve. ICT resources and functional applications provide integrated and customized intelligent services for the development of cities and communities."
Fellow panellist, Dr. Gianluca Misuraca, Vice-President of Inspiring Futures in Switzerland, also believes that human-centred artificial intelligence is the key to future-oriented development. He highlighted a consensus the world is trying to reach, commenting that digital technology is actually a powerful force for change that facilitates (or hinders) the achievement of the United Nations' 17 Sustainable Development Goals.
"Academics and policymakers need to link digital transformation with green transformation. While paying attention to technological development, it should also focus on regulating the development direction of technology through the formulation of services and policies and building artificial intelligence functional experts for public services.
"Technology is a double-edged sword, and although digital innovation can bring a lot of positive benefits to society, and have a positive impact on the SDGs, inappropriate applications also have the potential to have negative impacts, which requires Technology practitioners follow the principle of a people-oriented approach, and impose corresponding constraints and management," said Dr. Misuraca.
Similarly, UNESCO ICT4D Chair and Professor Tim Unwin of Royal Holloway, University of London, also expressed the importance of regulating technology, noting that academia and industry, "Need to understand the interaction between digital technology and the physical environment. A more comprehensive understanding of the role can create new models that facilitate a balance between the positive and harmful impacts of digital technologies on the environment."
Talking about the use of innovative technologies for positive and beneficial impact, Dr. Yang said, "It has become the common aspiration of all cities and regions to ensure people live better lives and make society more dynamic. The key to creating the right environment for this lies in fully understanding the complex needs of each user and providing customized products and services to match and provide for those needs."
"Terminus Group is committed to providing people-oriented sustainable customization for communities and cities based on artificial intelligence and Internet of Things technology," Dr. Yang continued.
"As many will be aware, the Internet, smartphones, and many applications can often not be so easily accessed or are friendly to the elderly. As a leader in AIoT technology and applications, a few years ago Terminus Group deployed smart community services in the residential area of Tianlin Street, Shanghai. Using a variety of sensors to provide all residents, especially the elderly, a series of intelligent services such as home care security, outdoor accident monitoring, and automatic garbage classification refuse collectors are provided. Here, we see a combination of easy to use and understandable tools for the general public through smart technology, which looks to alleviate any misunderstandings caused by the digital divide often seen between older and younger generations.
"By providing community customized intelligent upgrade services that are convenient for residents, in particular the elderly residents, these solutions are also based on ensuring safety and promoting enhanced environmental intelligent management. This includes smart garbage classification, which enhances both the residents' sense of community contribution as well as improving and refining these community's digital and intelligent management capabilities. In China, such technology is rapidly becoming a national benchmark for the development of smart communities," Dr. Yang concluded.
Dr. Suay M. Özkula, researcher of the International Telecommunication Union, and moderator of the session, praised Terminus Group's practices in these areas, saying: "Reducing the granularity of services to a lower level is a major challenge for the academic community and industry. The direction and joint efforts of [AIoT] practitioners in the world are also of one of the reasons why we are here today. Terminus Group is demonstrating this future-oriented technology and I believe that with the joint efforts of academics and entrepreneurs, we have the opportunity to build a world without poverty and hunger, and create richer, happier, more sustainable lives."
WSIS is the world's largest annual gathering of the ICT community, co-organized by ITU, UNESCO, UNDP and UNCTAD. WSIS 2022 paid special attention to the priority areas of the Sustainable Development Goals, including focused areas on the elderly, accessibility, education, youth inclusion, environment, infrastructure, and innovation. Over its near three-month period, WSIS welcomed more than 500 academics from more than 150 countries and regions, as well as high-level representatives from industry, public and private sectors.