Terminus Group, the global smart services and AIoT solutions provider, reached a strategic cooperation agreement with Puy du Fou. The two sides will jointly promote the development of AI + cultural and tourism scenarios and implement immersed and smart theme parks, accelerate the smart upgrading of the cultural and tourism and entertainment industries, and drive regional and global sustainable digital and economy development.

The collaboration with Puy du Fou will further strengthen Terminus Group's AIoT technology and smart management capabilities in various scenarios internationally. Victor AI, the Founder and CEO of Terminus Group, said:" The immersed experiences that enabled by technology and the possible creative integration of cultural and technology is what Terminus Group has valued. Future cities not only need the support of rapid industrial development, but also need culture and history to increase the depth of urban experience. Technology could be the enabler that activates the rebirth of history and culture. Terminus Group is willing to tell cutting-edge technology stories to the world through cultural scenarios. We look forward to our strong alliance opening up the further development of technology and cultural industries, and exploring the market with ubiquitous experiences globally.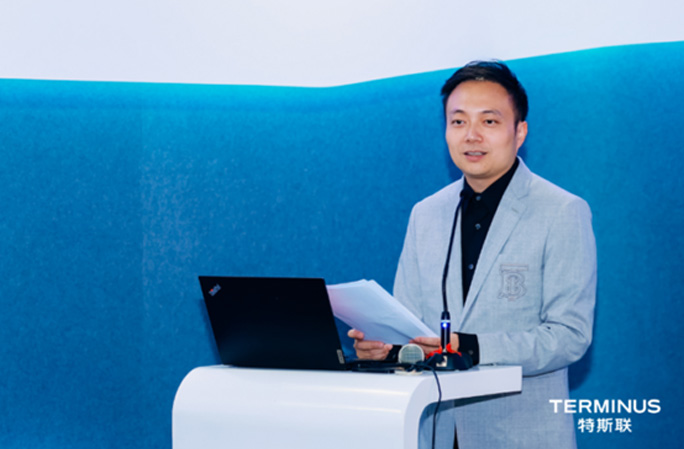 Victor AI, Founder and CEO of Terminus Group, makes speech on the signing ceremony
Through the collaboration with Terminus Group, Puy du Fou's global business will further look towards Asia Pacific market. Nicolas de Villiers, Chairman of Puy du Fou, said at the signing ceremony:" It is our pleasure to work with Terminus Group. We have known that Terminus Group had a stunning appearance at Expo2020Dubai and that gave us strong confidence in our future cooperation. In the smart era, we are looking forward to having the capabilities of technology to revitalize a special growth. Terminus Group represents a brand new look for a new generation of technology enterprises. We believe that with our advantage of cultural and heritage experiences and Terminus Group's technological capability, we can create an unique cultural and humanity experience, bringing a new vitality to the industry."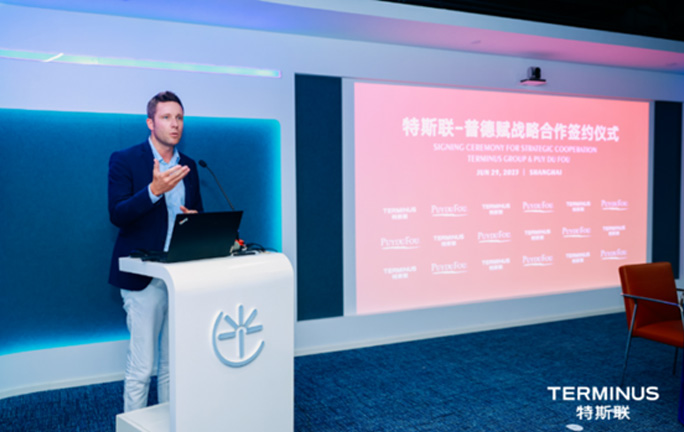 Nicolas de Villiers, Chairman of Puy du Fou, makes speech on the signing ceremony
Pierre MOUSSY, Counselor of Consulate General of France in Shanghai, sent his best wishes to the cooperation between Terminus Group and Puy du Fou. He believed that the mutual beneficial cooperation is also an opening reliability of their friendship. When a storyteller encounters the cutting-edge technology, it will be definitely fascination. We look forward to creating a high-quality cultural and tourism experience while driving the smart upgrading of the economy through this cooperation.
At the signing ceremony, the two sides leader exchanges gifts to each other that hoping for a long and prosper friendship. Victor AI, the Founder and CEO of Terminus Group, gave the national traditional culture symbolized Four Treasures of the Study to Nicolas de Villiers, Chairman of Puy du Fou, while, Nicolas gave Puy du Fou's coat of arms to Victor. Puy du Fou's coat of arms, is a historical symbol created a thousand years ago by the knights of Puy du Fou, and is to give those who receive it the age-old strength of veterans and ancient poetesses who forged the history of Puy du Fou.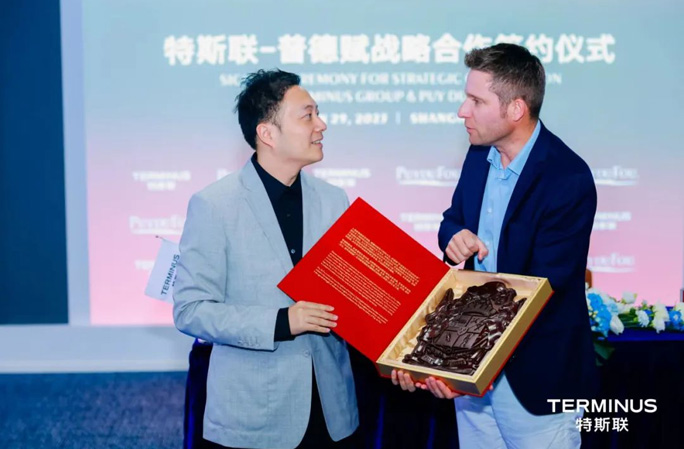 Nicolas gives Puy du Fou's coat of arms to Victor on the signing ceremony
As a company with a global vision, Terminus Group has been actively engaged in scientific and technological innovation exchanges and cooperation internationally. From Expo2020Dubai to the Louvre in Abu Dhabi, and to the "House of Wisdom" library in Sharjah and others, there's lot of innovative and smart implementation created by Terminus Group's technologies. Terminus Group will further develop platforms for the landing of scientific and technological achievements and industrial connection, achieve greater exploration in deepening economic and trade cooperation, and enable the rapid regional and global smart and digital economy development.
Founded in 1978, Puy du Fou becomes a worldwide leader in large scale live entertainment and artistic creation inspired by history and its legends. Puy du Fou constantly seeks to invent, innovate and surprise with enriched shows, aiming to extend its creation around the world and discover new legendary territories.