Terminus Group, the global smart services and AIoT solutions provider, has announced it has reached an agreement with Sino-Italian Ningbo Ecological Industrial Park,in Yuyao, to provide sustainable digitization across the site - the first of its kind in Zhejiang province to involve international co-operation.
Established in 2014, the Sino-Italian Ningbo Ecological Industrial Park will benefit from a sustainable, smart services and intelligent upgrading, including AIoT industry incubation, and proprietary technology from Terminus Group's smart city or "AI CITY" portfolio.
The agreement outlines how Terminus Group will provide a full stack of AI CITY solutions for the Park, the aim being to cultivate the AIoT industrial ecosystem and enable further integration and localization, within the city of Yuyao.
By developing an innovative, eco-friendly, open and human-centric science, technology and industry zone, in Yuyao, Terminus Group's smart digitalization technology will also be a catalyst for greater sustainable development of the whole city. It is further suggested by the two sides that the immediate impact will be seen through improvements to urban management capacity and public service levels.
As part of the agreement, the two sides will also jointly promote the landing of the smart robot industry, in Yuyao, with a focus on business scenarios and closed parks to optimize robot solutions based on unmanned automatic driving technology. In addition, the two sides also agreed to jointly set equity investment funds around emerging technology fields such as AIoT, carbon neutrality, smart robots, new consumption, new energy, and other related future technologies.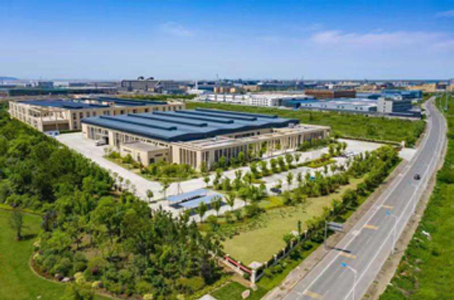 (Sino-Italian Ningbo Ecological Industrial Park in Yuyao./ Source: website)
From the Internet era to the smart era, the deep integration of AIoT technology within industry is increasingly setting a larger stage for the development of the world's new smart economies. They are also an excellent opportunity to reshape industrial norms, with AIoT technology becoming the core infrastructure of the new era.
For its part, Terminus Group has been deeply engaged in this field for more than seven years and the agreement will see the Park benefit from unique advantages to further integrate technology, finance and industry, and promote the sustainable growth and development of high-value-added industries, in Yuyao and other cities. According to the two sides, cooperation in these areas will also mean a wide range of application scenarios, backed by Terminus Group's proprietary software and hardware solutions, and will encourage market resources and support for its ecological and capitalization of the fourth industrial revolution (4IR).
Commenting on the announcement, Terminus Group Founder and CEO, Victor Ai, said: "Terminus Group has always adhered to the firm belief of applying technology to create a better life for all peoples and this cooperation will further promote the advantages of Terminus Group in the exploration of technological industry practices. Further consolidation of our own production and research strength and optimizing software and hardware solutions, in combination with new scenarios, will also help the sustainable urbanization and smart industrial development, across Yuyao."
With AIoT and carbon neutrality inexorably linked for Terminus Group, the company has sought to create a new type of urban AIoT solution. Through extensive R&D in IoT technology and end-to-end integrated services, it has been a key driver of upgrading urban management, promoting prosperity of industrial ecology, and improving the implementation of green and low-carbon solutions, in many cities across the globe. All of which have provided a scientific and technological path for these cities' sustainable development.
Terminus Group's proprietary platform, TacOS (Terminus AI CITY Operating System) includes the CityIoT, CityOS, CityAI, CityAPP and CityStudio five-tier technical product system. Integrating software and hardware, TacOS has established AI CITY infrastructure in many cities including Chongqing, Deyang, Wuhan, and been involved in more than 9,000 projects.
About Sino-Italian Ningbo Ecological Industrial Park
The Sino-Italian Ningbo Ecological Industrial Park, situated in Binhai new city, in Yuyao, a county-level city of Ningbo, is the only national level international cooperation ecological park in Zhejiang Province. The park, with a total planned area of 40 square kilometers, was officially established in October 2014, that primarily consists of five industrial bases and a science and technology city, covering sectors such as new energy vehicles, new materials, health, general aviation, energy conservation, and environmental protection. With its strong economy, ease of access, and modern infrastructure, the ecological industrial park has a competitive advantage in attracting foreign investment projects.