Terminus Group, the global smart services and solutions provider and developer of three next generation smart cities, recently took part in the VIPriors Challenge - an award presented to pioneers in the field of computer vision, as part of the European Conference on Computer Vision (ECCV) 2022.
With the award set across four challenges – Image Classification, Object Detection, Instance Segmentation, and Action Recognition – the Terminus Group team took second place in the "Object Detection" category.
ECCV is a biennial research conference, which, together with the International Conference on Computer Vision (ICCV) and the International Conference on Computer Vision and Pattern Recognition (CVPR), ranks in top three international conferences addressing computer vision.
Computer vision is a field of artificial intelligence (AI) that enables computers and systems to derive meaningful information from digital images.
Attracting top laboratories, research institutes, multinationals, and institutions from all over the world, ECCV 2022 saw hundreds of international teams participate in the VIPriors Challenge. These included Terminus Group, Meituan, the Chinese Academy of Sciences, Tongji University, Xidian University, OmniVision, and Hutom.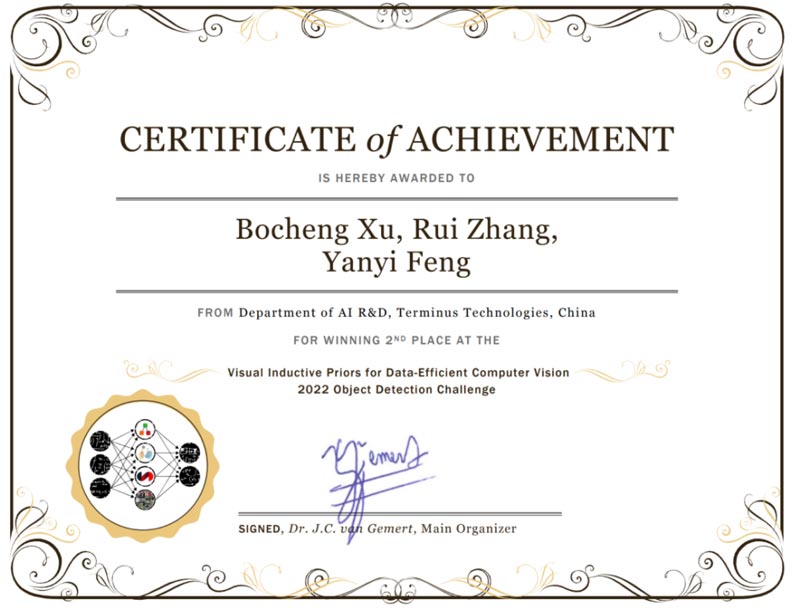 The Visual Inductive Priors (VIPriors) for Data-Efficient Computer Vision Challenge, to give it its full title, focuses on how to use computer vision to summarize prior knowledge and improve the efficiency of digitalization.
As part of Terminus Group's entry in the Object Detection category, the focus was on the zero basic training detector - to detect bicycle parts on the Delft Bikes dataset, under the condition of insufficient data. The dataset holds 10,000 bicycle images with parts missing, damaged or blocked. This makes it very difficult for existing object recognition technology to identify.
To counter this challenge, combined with the application of Terminus Group's AI technology and products, the team set up a complete target detection framework to carry out technical innovation from digital pre-processing self-training, based on weak supervision, object detection framework optimization, and finally upgraded AP@0.50: 0.95 to 0.329 by the multi-model integration. This greatly improved the detection accuracy and adaptability of the classical object detection algorithm.
The importance of this, beyond the VIPriors challenge parameters, is that Terminus Group's technologies can also be applied to other multiple object detection scenarios. This is achieved through Terminus Group's development of a low code and no code platform to promote the implementation of research achievements.
While the VIPriors challenge has its winners and runners-up, these exercises often represent not just a solution but more often than not become the beginning of continued research. For its part, Terminus Group is continuing to optimize the pre-training model for industrial applications – in both domestic and international events – to adapt the "competition model" to the real needs of the industry. Ultimately, the company says this approach will further enable and enhance the industry's technology and, specifically, via the use of Terminus Group's city-level operating system TacOS 3.0 and "Nine Chapter AI Algorithm."
The Nine Chapter AI Algorithm enables "modularization" and "atomization" for TacOS as its core AI platform and act as a bridge between academic and industrial ecosystems of development. Essentially, TacOS both enables academia to develop pre-training models based on industrial information, and further enables commercial enterprises to carry out their incubation of proprietary intellectual property algorithms and the use of existing mature algorithms.
At present, Terminus Group has started to train and adapt the VIPriors competition model based on real industry demand such as auto parts identification, with a view to supporting the digitalization process of the car manufacturing industry.
"A synergetic development process enables industrial applications through academic exploration, while improving scientific research and innovation for future products", says Victor AI, Founder and CEO of Terminus Group,
"Going forward, Terminus Group expects to further enhance TacOS and the Nine Chapter AI Algorithm to promote the exploration of AI cutting-edge technologies, create a systematic optimization-oriented, low-threshold AI applications, for all kinds of enterprises. The outcome: More enterprises will enjoy the dividends of innovative technologies with AI more integrated into contemporary industrial practices."
Based on more than 8,000 AIoT-related projects already completed, to date, Terminus Group has developed pre-training models that adapt to the needs of hundreds of subdivided fields such as industrial Internet, smart energy, and smart building, with many more sectors set to benefit in the future.