Terminus Group, the global smart services and AIoT solutions provider, has teamed up with Wuhan Vocational College of Software and Engineering to jointly promote the foundation and development of an integrated industrial and educational training hub, as part of Terminus Group's Talent or "T-Plan".
Established to help grow an AIoT talent and career development channel, the training model collaboration will improve the education and training systems for industrial application-oriented talents. In partnership with Terminus Group's T-Plan, the establishment of the Terminus Group AI Computing Center, in 2022, indicates the ongoing progress of the companies ambition for promoting ubiquitous use of AI, across industries.
To date, Terminus Group has set up two AI Computing Centers, which are located in Deyang AI CITY and Wuhan AI CITY respectively. The goal of each center is to connect and cultivate an academic and industrial ecosystem that will help traditional enterprises and small and medium-sized enterprises (SMEs) to reduce the threshold cost of AI research, development and practices. The intention being to create a more optimized AI application-oriented talent training system for multiple vertical industries.
With the rapid development of AI continuing unabated, the demand for AI talent has shown that there is currently a huge gap in talent that needs to be filled. By working with higher vocational colleges to cultivate professional and technical talents, talent can be developed and fed back into the market and provide industry with new options for the development of both the AI industry and vocational education.
The cooperation between Terminus Group and Wuhan Vocational College of Software and Engineering focuses on talent training conducted across several areas. These include:
Faculty members: Terminus Group Wuhan AI Computing Center (AICC) will appoint an industrial professor to Wuhan Vocational College of Software and Engineering who will assist the college in integrating core AIoT industry technology into the education curriculum. In turn, feedback from education will flow into more commercially-oriented industrial outcomes and provide students with first-hand market feedback and experience. At the same time, Terminus Group's AICC will assist the college to attract AIoT engineers, carry out special faculty training, and cooperate to develop a dedicated AIoT-qualified team.
Training courses and system: The AICC will provide SMEs with low-cost, low-threshold AI core algorithm incubation capabilities. This will primarily be provided through Terminus Group's city-wide TacOS smart platform and the nine-chapter AI algorithm empowerment platform based on the needs of these enterprises. On the other hand, the enterprises' demand will also be developed into an artificial intelligence training course system, for the benefit of the industry, through the nine-chapter AI algorithm enabling platform. The AICC will also be a key contributor to the college's talent training program, integrating local industry needs and developing curricula standards accordingly, in line with industry-relevant characteristics.
Internships and employment: Terminus Group will take the AICC as the center of industrial demand, while taking the AIoT Industrial College of Wuhan Vocational College of Software and Engineering as the center of education and training. In doing so, this will achieve a two-way synergy between industrial demand and academia, and deliver industry-relevant talent directly to enterprises. While providing internship opportunities for students, it will also help companies upgrade their talent structure and achieve digital and intellectual transformation. It is worth noting that, unlike traditional AI training, which tended to be heavily based on theoretical research, the new mutually assisted education and training model allows students to directly conduct practical training with actual industrial needs. This not only upgrades the past mode of theory-led learning, but redefines AI application-oriented talents, and provides a more industry-relevant problem solving dynamic that benefits both the student and the industry once they graduate and go into the workplace.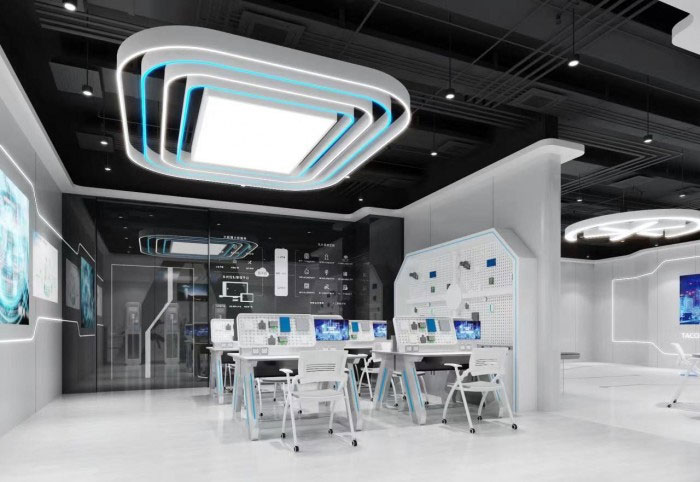 Terminus Group AI Computing Center, Wuhan
Commenting on the new collaboration, Terminus Group Founder and CEO, Victor Ai, said: "The application of AI needs to be real, which requires more industry talent to have the ability to develop AI, as well as more AI-trained personnel to have the ability to apply their knowledge to practical and industry-relevant applications, in the future.
"Taking this as the starting point, Terminus Group expects to not only develop a more complete AI education and training system, but to create a new training paradigm for applied talents in the AI industry and help fill the industry talent gap."
Wuhan Vocational College of Software and Engineering is a highly-respected professional training college and a national software technology training base. The College has a total of 11 colleges, offers 49 courses and has 1,042 faculties and over 16,000 full-time students. Terminus Group is a global smart services provider that specializes in the development and commercialization of Artificial Intelligence (AI) as well as the Internet of Things (IoT) or AIoT.