Terminus Group Wuhan AI PARK was listed on "The Top 10 Building PEDF Best Practices" by the Committee of Photovoltaic Energy storage Direct current and Flexibility. The Committee notes that Terminus Group Wuhan AI PARK has achieved joint dispatching of building electrical and air conditioning systems, forming a flexible and manageable power grid micro node.
Terminus Group Wuhan AI PARK is the first green low-carbon smart park created and developed by Terminus Group in central area of the nation after its Chongqing AI CITY and Deyang AI CITY. Based on the city-level TacOS platform, the whole PARK applies 5G, digital information, artificial intelligence, blockchain, digital twinning and other technologies to smart buildings, and develops a low-carbon industrial park driven by energy saving strategy through technology and management.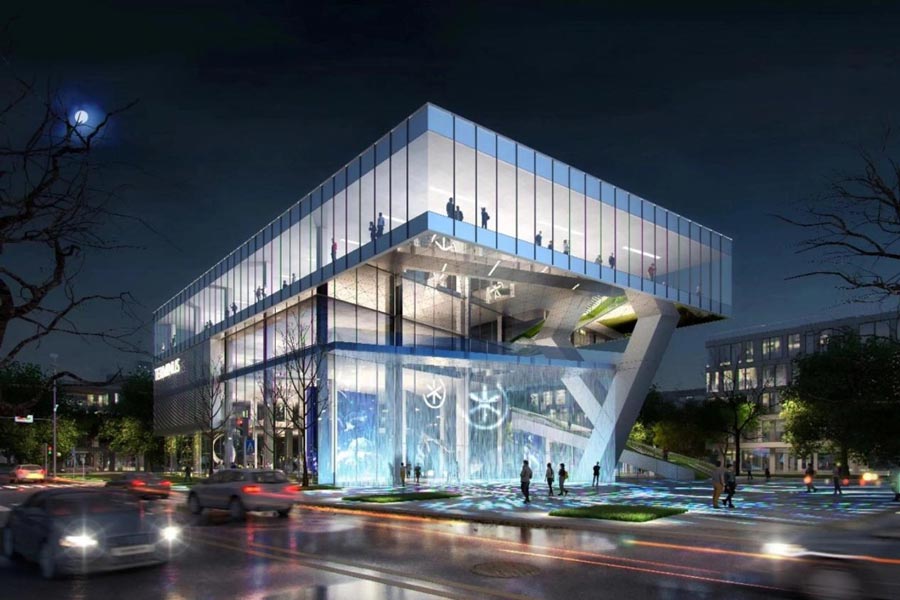 Terminus Group Wuhan AI PARK, the first phase of Wuhan AI CITY
Terminus Group Wuhan AI PARK attaches particular importance to the implementation of PEDF (Photovoltaic, Energy storage, Direct current and Flexibility) technology to achieve the transformation of buildings from traditional energy utilization to clean energy utilization. In terms of photovoltaic, energy storage and other distributed energy access, the PEDF system built in AI PARK includes photovoltaic shed, lithium battery energy storage, flexible Charging station, DC air conditioning, DC lighting, solar street lights, etc. The PARK has built a 55kWp distributed photovoltaic power generation system, which uses distributed Lithium-titanate battery with high security and high discharge rate. In addition, it has optimized the design of energy storage configuration capacity according to the hourly load characteristics of building energy consumption and the prediction of photovoltaic power generation capacity to improve the self use rate of roof photovoltaic power generation, and reduce the peak load of building power consumption.
The power generation system can interact more friendly with the power grid, achieving efficient access and flexible management of renewable energy, DC, and variable frequency loads. At the same time, based on the PEDF new energy system and related intelligent algorithms developed by Terminus Group, the power generation system can achieve more efficient, flexible, and safe power supply according to load changes and actual needs.
On this basis, Terminus Group will launch a series of low-carbon smart product systems such as it self-developed AIoT-based OriginSYS platform and a series of smart end-to-end devices in the PARK as a whole. The mart end-to-end devices can collect and store the comprehensive energy digital information in the PARK, low-voltage grid power distribution information, equipment operation and energy consumption, and carbon emission digital information in real time, and conduct statistics and analysis of the digital information based on intelligent algorithms, so as to provide more intelligent decision-making for the operator, realize smart operation and maintenance of the PARK's energy, and improve the efficiency of energy utilization.
Terminus Group Wuhan AI PARK has officially had the national carbon neutrality certification. In the future, Terminus Group will further leverage its AIoT technology endowment to innovate and create solutions for energy-saving and carbon reduction scenarios. While promoting more efficient electricity use, the company will work with a wide range of ecosystem partners to explore the development of clean energy such as hydrogen, photovoltaic, and wind power, accelerate the optimization of energy structure, and contribute to the green, low-carbon, and digital development of parks and even urban areas.