As a leader in the development of urban AIoT technology, Terminus Group is committed to promoting the integration of AI and IoT innovation, and in Wuhan, the company has launched 'Wuhan AI CITY'. Established in 2022, as a low-carbon and sustainable smart park, Wuhan AI CITY features many scientific strengths in the fields of education, health, and technology.
This project is a demonstration of the use of the Terminus Group's AIoT technology, with the company also engaged in other AI CITY projects other cities such as Chongqing, Deyang and Dubai.
The development of Wuhan AI CITY was made possible through the combination of the city's unique advantages and the Caidan District's unique characteristics. Through its various industrial clusters, the project has brought about the establishment of new economic and technological industries along the Yangtze River Economic Belt. In particular, three industrial clusters have risen to prominence and they are: Smart Digital Economy, Smart Energy, and Smart Retail.
Through its various business units, the Terminus Group has been able to establish a network of over 1,000 partners in the fields of digital economy and industrial ecology. These partners are responsible for the development of the digital economy ecosystem in the Caidian District.
While focusing on attracting large tech and scientific companies, the Terminus Group has also been able to support small and medium-sized businesses. In May 2023, it was revealed that Wuhan AI CITY had attracted several firms to relocate. Most of these are technology companies, and the company has been actively promoting the region's investment opportunities.
In the field of new energy, Terminus Group has effectively integrated sustainable, low-carbon and various scenario-based smart products by deploying technologies such as "direct and flexible optical storage" and integration of source network storage and load, creating a new model of regional low-carbon digital development.
Terminus Group Wuhan AI CITY will also set up distributed photovoltaic power generation system demonstrations in squares, roofs, parking lots, and other venues. The grid connected equipment and energy storage system arranged synchronously have improved the level of energy consumption in Wuhan AICITY and met the power supply demand of Charging station, lighting and display functional equipment in the area.
The rapid emergence and evolution of new retail has been one of the main factors that has contributed to the development of the urban economy in the city. Through its partners in the field of video technology, the company has been able to help the development of various regional retail industry belts.
In Wuhan, AI City is dedicated to supporting the development of e-commerce businesses through the establishment of a dedicated live streaming area. It will also develop a platform that will allow companies to promote their operations and enhance the economic development of the city.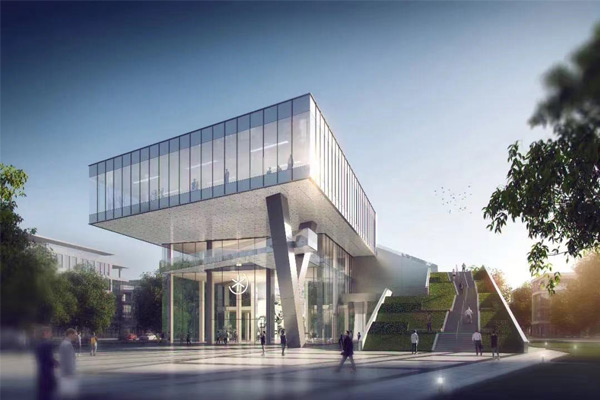 Terminus Group Wuhan AI PARK, the first phase of Wuhan AI CITY
As an important part of the sustainable development strategy of Hubei Province, Caidian District has a good first mover advantage in culture, ecology and location, as well as a strong industrial foundation in the context of the Yangtze River Economic Belt and innovation driven development strategies. In 2023, Caidian District will focus on building a modern industrial system, accelerate the layout of new energy, new materials, big health and other emerging industries, and implement digital economy projects.
Stating his full confidence in the future digital and smart development of Caidan District, in Wuhan, Victor AI, the Founder and CEO of Terminus Group said: "The growth of technology is now giving birth to a new global wave of development that is being led by the artificial intelligence big model, represented by ChatGPT. This will inevitably accelerate the upgrading of the digital economy industry"
"It is a rare historical opportunity to accelerate human and technological development and Terminus Group will play its part through its R&D advantages in the fields of AI and IoT – or AIoT," Victor added.
It is clear from Victor AI's comments that the company intends to base much of its future AI CITY technology around developments coming out of Terminus Group's Wuhan AI CITY. With its strategic position to act as an early adopter of such technologies, it will clearly offer many advantages to industry, research, and scientific and technological innovation.
In short, Wuhan AI CITY will undoubtedly participate in the development of the digital economy of the Caidan District, inject vitality into scientific and technological innovation in the region, deepen practical cooperation in the field of new energy industry, promote new progress of projects in a high-quality way, and contribute to promoting the green, low-carbon, digital and smart development. As a hub for actively absorbing innovative resources and jointly creativity – the foundations of a thriving innovative industrial ecology have just begun.